There are many strands to the English curriculum including phonic knowledge, reading fluency, reading comprehension, writing, grammar, spelling, handwriting, oracy, drama, debate and verbal presentations. There are specific lessons focussed on teaching the skills of reading fluency, reading comprehension, spelling and handwriting. These skills are then applied during English lessons as well as other subjects across the curriculum.
Writing
At CJS, we teach English through a Novel Study approach, which exposes children to a wide range of rich and challenging texts. We aim to create a sense of awe, wonder and curiosity about books while teaching all aspects of the English curriculum. These novels are used as stimulus for a range of writing outcomes.
Reading
At CJS, we prioritise the importance of reading as the key to accessing the curriculum. We promote a love of reading and ensure that children develop their knowledge through high-quality texts and resources.
We teach our children to read in a number of ways:
Phonics:
We use the Read Write Inc (RWI) scheme to teach phonics to our early readers. Children develop their phonic knowledge through targeted interventions so they can read and spell accurately and fluently. They will practise their reading using phonetically decodable books.
Shared reading:
Teachers will explicitly model reading strategies needed for successful reading and the children practise (see reading progression below).
Guided reading:
Children have the opportunity to apply the reading strategies they have learnt
Comprehension lessons:
Children have the opportunity to learn and develop further reading skills required for a range of written comprehension questions.
Story time:
All classes at CJS enjoy story time (or poetry time) at the end of the day. Class teachers read engaging and diverse books with the children and promote the love of reading.
Reading at home:
All pupils are expected to read for at least 10 minutes at home, every day. Home reading is rewarded through the collection of stamps which earn certificates and badges. We believe home reading is crucial so any children who do not read at home are given opportunities to catch-up in school. We have Class Reading Champions that monitor children's reading records, encourage everyone to read widely and for pleasure and celebrate those reading regularly in class.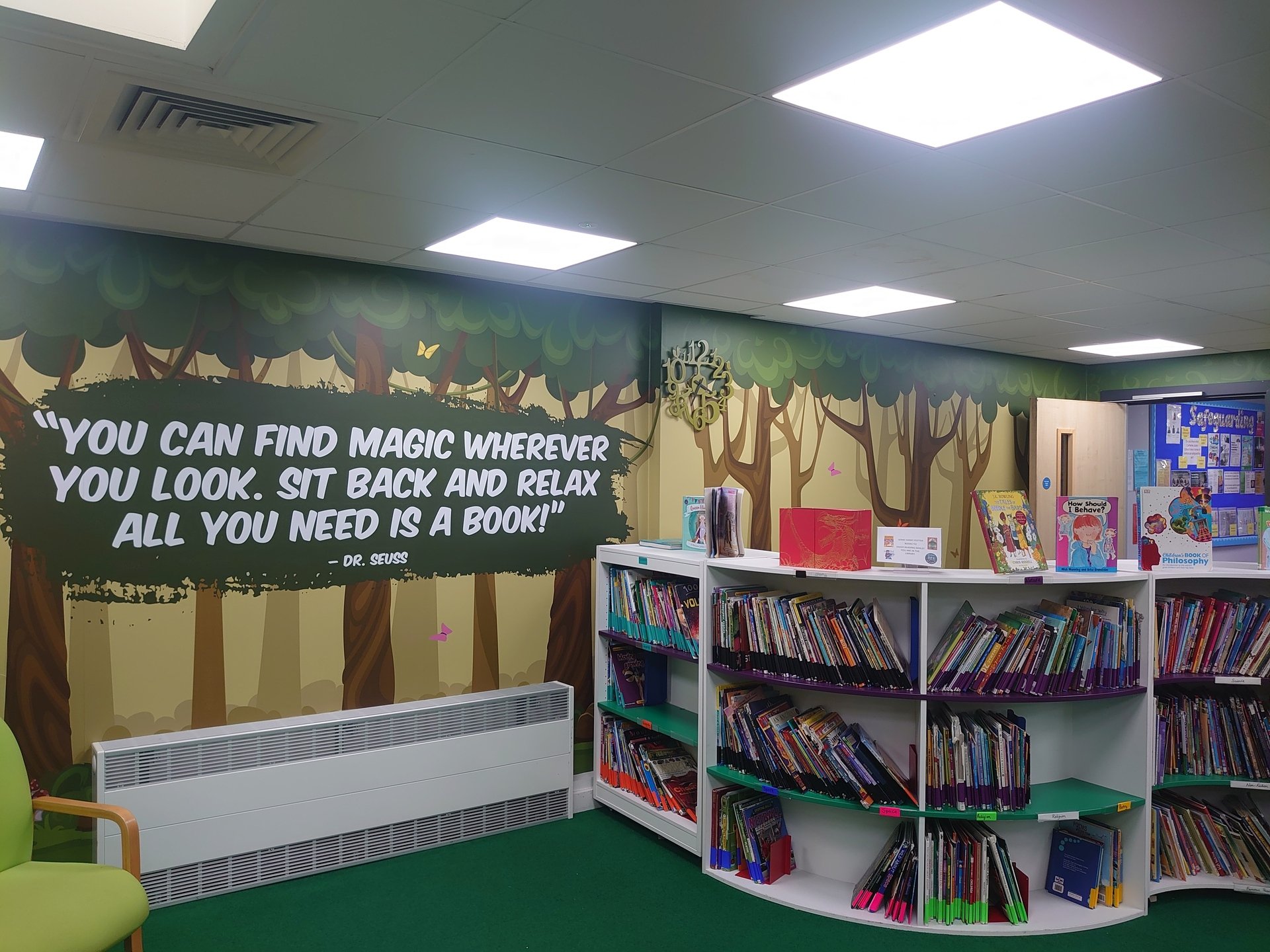 Intent – What are our aims and vision and why are we doing this?
At Catherine Junior School our curriculum is designed to provide, through inspiring and engaging experiences, the knowledge and skills required to become independent, life-long learners.
At our school, we believe in developing a love of reading through carefully selected books for novel study and through reading a diverse range of books during story time. Children have regular access to our vibrant library with a selection of rich and diverse books. We recognise that English is essential to everyday life; reading widely allows children to access other areas of the curriculum, develop their imagination and creativity and widen their cultural awareness. Our English curriculum is designed to allow our children to acquire the knowledge and skills needed to be able to read and write fluently and communicate effectively both verbally and through written work. We believe that talk plays a key role in children's learning, therefore, we aim to embed Oracy within the curriculum. Oracy skills are developed so children can learn to talk and have opportunities to learn through talk. Our teaching intends for children to know more, remember more and do more and is planned and sequenced towards cumulatively sufficient knowledge and skills. We provide our children with engaging experiences through immersive activities, drama and debate to deepen children's understanding of the curriculum.
All aspects of our eight key principles in The Catherine Code underpin our curriculum, which promotes our school motto and ethos of 'Together, we can do it!' Our curriculum is led by our whole school core principles of Oracy, Reading, Experiences and Memory and Recall.
To find out more about our English curriculum, you can speak to Mrs Pancholi, who is our English Lead or Miss Qureshi, who is our deputy English Lead.